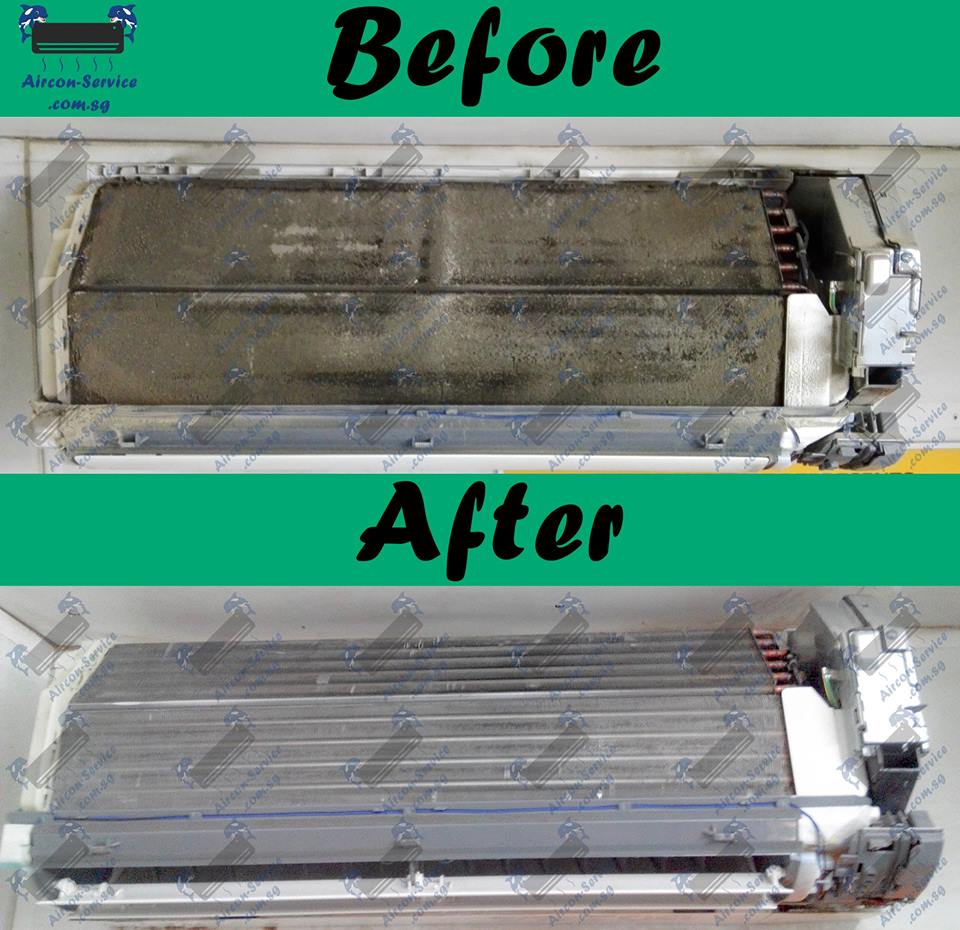 Air-conditioning chemical wash in Singapore can effectively flush away all the stubborn dirt, grease, dust and grime that have accumulated in the units. In the process, a special chemical solution will be used flush the units. After the chemical cleaning, your air-conditioner will be very clean and fresh. The chemical solution that we used are eco-friendly and can effectively wash out all the harmful bacteria and dirt in the units. It has proven that chemical wash is one of the most effective solution in eliminating dirt, bacteria and mold that have formed in common air-conditioner units.
We recommended that you opt for the chemical cleaning if your air-conditioner is used by families with respiratory, skin or sinusitis issues or having low body resistance. It is best to wash your air-conditioner frequently as it will provide a cleaner and fresher air for you and your families.
This chemical cleaning is not only suitable for air-conditioners in the hotel, restaurant, factory and café sector, it is suitable and recommended for any types of air-conditioner including your home and offices. Other than cleaning away the dirt, dust, grease that accumulates in the system, it can even effectively eliminate the bacteria that have been formed in the indoor unit. One of the common bacteria found in the unit is "Legionella Pneumophila" where it may even lead to Legionnaire's Disease. It has been tested that chemical washing can effectively remove 99.99% of the bacteria formed in the units. Therefore, we strongly recommend consumers to opt for chemical washing to keep your units clean and fresh. Most importantly, it will improve the indoor air quality and likely help to improve you or your families respiratory and health issues.
Disinfectant for Air-conditioner
We also have a disinfectant that have some very important functions in it. It can actually eliminate the bacteria, clean the units and freshen up your air-conditioning system. It is actually commonly used by clinics, schools, homes, restaurants, warehouses, offices, factories and more.
By eliminating the bacteria surrounding in the unit, it can reduce the chances of the spread of virus infections and reduce the danger of cross-infection in the house or office. By cleaning and sanitizing, it can effectively kill the germs that are lying around the surfaces of the units which prevent the spreading of germs through the objects. By freshening the units, it can remove the odor or bad smell coming out from the aircon and ensure that the indoor air you are breathing is clean and fresh.
It proved that it can an effective disinfections on the air-conditioner surface against the following such as Legionella Pneumphila, Escherichia coli and Pseudomonas Aeruginosa and more. Those bacteria are very harmful and can lead to serious diseases, hence in is important to eliminate those Bactria that could be found around the units.
Chemical Wash
The chemical washing involves a thorough process in chemically washing the air-conditioner thoroughly. It involves applying the special chemical solutions into the units and thoroughly wash out all the dirt, dust and grease from the unit.
It has many benefits such as cleaning and washing away all the stubborn dirt, dust, grease and even bacteria. It will improve the air quality and result in cleaner and healthier air for you and your families. It will increase the cooling efficiency of the system and result in lower energy consumption in the long term. Furthermore, it will reduce the possibilities of issues such as condensation, water leaking and more. In the long run, you could save on future repair cost due to reduced possibilities of system break down and help to increase the lifespan of your units.
Why do you need chemical washing for your air-con?
It is advised that air-conditioner need to be cleaned and serviced regularly due to the hot environment. You may think that even if have properly taken care of your units by doing so, why do you still need to chemically clean your air-con? You will not be able to clean the dirt and mold that are formed in the internal of the unit since the unit is made of several parts. By doing a thorough chemical cleaning, you are able to see how filthy your air-conditioner is. Chemical washing is only needed when normal cleaning is unable to improve the condition of the unit.
When your air-conditioning system is fully clogged with dirt, dust, etc. it can cause many problems to your units. Some examples are poor air quality, aircon not cold, icing, bad odor / foul smell, weak air flow, noisy air-con, water leaking and more.
If you ever encountered similar air-conditioner problems as mentioned above, you may think that your unit have encountered some technical issues which result in certain parts broken down or are defective. However, you may be wrong as these issues may be due to the fact that your air-con is being severely clogged with dirt. Thus, this is one of the reasons why experts are advising consumers to maintain their air-conditioning units regularly in order to prevent it from breaking down. The most effective solution will be preventive maintenance, which means cleaning and washing your air-conditioner regularly.
Other than the possible problems surfaced due to a dirty aircon mentioned above, when your unit is dirty, it will end up working hard to cool down the room. In the long run, it will lead to a higher possibility of wear and tear which will lead to a hefty repair cost. Other than that, it will likely result in higher power consumption by the units, thus, increase the electricity bills. Overall, it is important to chemical clean your air-conditioner regularly in order to maintain the efficiency, productivity and also to prolong the life span of it. You may question how long should you chemical wash your units, it is actually dependent on your air-conditioning usage and the environment.
Effectiveness of Aircon Chemical Wash Solution to Clean Your System
If you look closely at the evaporator coil of your unit, you can see that it is made up of many layers of aluminium fins in it. There are spaces in between the fins, which are prone to accumulate dust, dirt and grease. These substances can be harmful and will even lead to the growth of bacteria or mold in it. So long as the parts have moistures around it, it will grow mold and fungi in the parts over time.
You may wonder that how are those harmful substances going to spread the diseases to you. When the cooling air is blown out from the unit, you and your families are going to inhale those air that contains harmful substances in it. Sometimes, the fungi or mold will emit the odor smell that is intolerable. The polluted and unhealthy air will circulate around the room. Thus, if you and your families tends to fall sick or feel uncomfortable, frequently, it may be caused by inhaling these unhealthy air and bacteria that are circulated in the room.
If your air-conditioner system have not been serviced for a long time, it could have already accumulated dirt, bacteria, mold and even grime in the system. Therefore, if you are in this situation, you should engage a professional air-con chemical cleaning company to wash your air-conditioners. Thus, you are able to effectively eliminate all the stubborn dirty substances and harmful bacteria in the coils and wash your unit thoroughly.
If you have ever tried our chemical washing, you will understand how thorough is the washing and how it benefits your air-conditioner. You will be able to see that by using our chemical washing, it will eliminate the dirt, dust, grease and other stubborn impurities that have accumulated around the evaporator coil. By removing all these stubborn impurities, it will ensure that your air-conditioner to function smoothly as before again. The performance of the unit will also increase, which will result in the increase of energy efficiency. Over time, it will help to reduce the electricity bills for your home and help to extend the life-span of your air-con. Most importantly, it will give you a healthier, cleaner and cooler air for you and your families.
Choosing Professional Company for Aircon Chemical Overhaul & Washing in Singapore
Note that chemical washing and overhaul are effective solutions in removing all the dirt and harmful bacteria in your units. However, it is important to take note that unprofessional companies may have unskilled technicians that are not able experienced with your air-conditioner unit. They may even mishandle your air-con units and end up damaging it when they are performing the chemical washing for your units. Hence, whenever you are hiring a company to perform chemical washing for your units, take note to engage a professional and experienced chemical cleaning company in Singapore. It will definitely save you more troubles by handling over your units to the professionals.
A proper chemical washing process on a fan coil unit will take at least 40 minutes to 1 hour to complete. The precise time will be dependable on the conditions of the unit and the manpower. As mentioned above, chemical washing on different air-conditioners requires expertise and knowledge in order to wash the unit. Hence, a professional chemical cleaning company will definitely have the technicians that possess prior experience and relevant technical skills. Without it, you may have chosen the wrong company and your air-conditioner may be in danger which is why we advised consumers to engage a professional company for chemical cleaning services.
Chemical Washing Solutions
A chemical solution is being formulated with a mixture of substances and chemical additives that are able to remove stubborn contaminants and dirt that are inside the air-conditioner. It is able to get rid of the dirt, grease, stubborn stains, fungi and bacteria that have accumulated in the unit. The use of normal detergents is definitely incomparable with the special chemical solutions that is specially formulated in washing the air-con units.
Other than that, the chemical solutions have other more benefits. Other than getting rid all the stubborn stains, dirt and all other grease in the unit, it helps to eliminate harmful bacteria that cause diseases.
Aircon Service Singapore uses quality chemical washing solutions to eliminate the bacteria that accumulate in the air-conditioner. Some of the bacteria commonly found in the air-con are such as the Legionella Pneumophila which is mentioned above. By using our chemical washing service, we are able to eliminate at least 99% of that bacteria. This particular bacteria are the common causes of respiratory issues such as coughing, lung infection and more. Thus, if you are currently facing any of respiratory issues, it may be a good choice to chemical clean your air-conditioner to prevent worsening of it and may even improve the condition of your respiratory issues.
Why Hire Us for Aircon Chemical Cleaning?
In Aircon Service Singapore, we are able to perform qualified chemical washing with our qualified and experienced technicians. We believe expertise and knowledge is the key in providing chemical washing to consumers in Singapore. Thus, we fully trained our technicians in different brands and models of the air-conditioner so that they are able to handle your units with care and able to wash your unit thoroughly.
Hence, you can be rest assured that your air-conditioner is in good hands by our experienced technicians, which are able to wash your unit thoroughly. Hence, if your air-conditioner have not been serviced for a very long time, we can help to wash your unit and remove all the dirt, contaminants and bacteria with our chemical washing. Furthermore, if you are facing any respiratory problems, it is also advised to wash your air-conditioner in order to improve the indoor air quality with a cleaner and healthier air for you and your families.
Benefits of Aircon Chemical Wash in Singapore
There are many benefits from chemical washing in Singapore, not only to your air-conditioners but yourself. The benefits (not limited to) are as below:
Improve indoor air quality
Cleaner & healthier air
Improve air circulation
Improve cooling & operating efficiency
Reduce smelly aircon problem
Reduce possibilities of system breakdowns
Reduce noise problem
Eliminate bacteria
Reduce water leaking problem
Prolong lifespan
Other than the benefits listed above, most importantly, chemical cleaning is able to make your air-conditioner clean and increase its efficiency and performance. Hence, in the long run, it could help you to save on electricity bills. A cleaner unit with increased efficiency will likely reduce the chances of wear and tear which will result in lower repair cost in the future. Most importantly, you are able to enjoy healthier and cool air in your room.
Aircon Chemical Washing Service & Aircon Cleaning Service
Before doing any services, it is important to have a professional and experienced company to check on the condition of your air-conditioner. It is because there may be scenarios where your air-conditioners are not necessary for chemical cleaning service. Thus, our technicians will advise the appropriate service such as the general aircon cleaning servicing.
By doing so, we will advise the most appropriate aircon services that are most beneficial to our customers. We believe in providing good quality service and building a long term relationship with our customers in Singapore. Therefore, if you require any assistance on your air-conditioners, you can contact our staff for help today.